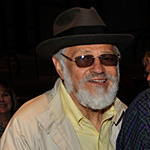 This week, Barefoot welcomes his favorite fiddle player in the world, Buddy Spicher.  Area Code 615 member and legendary Country Music Hall of Fame session player and Nashville Cat, Buddy's violin and viola have been heard on several Barefoot records.  For a sample of his talent, check out the video of the Johnny Cash show.
Watch this video with Johnny Cash and Area Code 615!
We will be in the back room of the Madison Piccadilly, this Sunday,  from Noon until 2:00PM.  Join us for 2 hours of musical entertainment. Grab yourself some food and come back and enjoy the music.
Thanks,
Wayne Moss