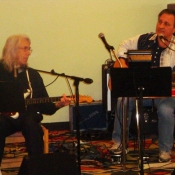 Straight from the Indy 500, Tim Wright will be Barefoot's special guest this Sunday.  A Dilly favorite and YouTube star, Tim and Barefoot will be playing music they have been working on together as well as many  Barefoot and Wright Brothers  tunes.
Check out Tim and friends on YouTube.  I know it looks like John Lennon, but it is really Tim, Michael Clark and Dean Metcalf singing and Tim playing banjo.
Join us in the back room of the Madison Piccadilly, from Noon until 2:00PM.  The food is always excellent and so is the entertainment.
Hope to see you Sunday.
Thanks,
Wayne Moss